5 best home remedies for quick relief from acidity
Written By
Mar 02, 2018
2 min read
Acidity is more common than you think and happens when the stomach releases excess acid. Sometimes, this excess acid comes up into your food pipe, or oesophagus.
While acidity is caused by certain dietary and lifestyle issues, there are some remedies you can try out at home for immediate relief for the time being. While home remedies are easily available, if you face this problem quite often, it is advisable to get a check-up done with your family physician.
Basil leaves or tulsi
Basil leaves help the stomach to produce more mucus, which reduces the feeling of nausea and heartburn that are associated with acidity. Chewing these leaves soothe an inflamed food pipe when the stomach produces excess acid. The anti-ulcer property of basil leaves reduce the side effects of gastric acids.
Try this: Wash and chew the leaves, or boil a cup of water with the leaves and have as a soothing tea.

Drink buttermilk or chhaas
Buttermilk, also known as chhaas, contains lactic acid that balances the amount of lactic acid in the stomach and reduces acidity. It also coats the stomach lining and reduces irritation. Buttermilk is a type of natural probiotic that prevents gas formation or bloating and improves overall gastrointestinal health.
Try this: Wash and chew the leaves, or boil a cup of water with the leaves and have as a soothing tea.
Jaggery or gur
Eating a piece of jaggery after a meal has been part of traditional Indian eating for long. Jaggery is high in its magnesium content which improves intestinal health. It also increases the alkaline content in the digestive system and reduces acidity.
Try this: Soak some jaggery in cold water and drink as a soothing drink, or simply eat a small piece after meals.
Fennel seeds or saunf
The compound anethole in fennel seeds prevents flatulence and improves digestion, thus reducing chances of acidity. It acts as a carminative agent, which means that it soothes the digestive tract and reduces inflammation.
Try this: Soak some fennel seeds in water for a couple of hours and have after meals, or chew the seeds as it is.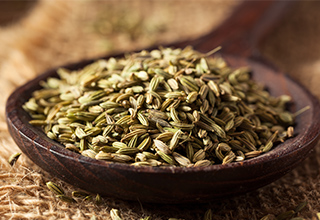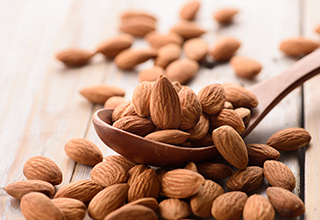 Un-soaked almonds
Almonds contain a good amount of natural oils that balance the acids in the stomach. These are also high in their fibre content, which will ease the digestion process and make it easier for your stomach to break down what you eat.
Try this: Instead of soaking, have a handful of almonds through the day. For added effect, have it with bananas , which is also great atto reducing reduce acidity symptoms.
In addition to the above, you can also get relief from acidity attacks by taking an antacid, whether in a chewable tablet format (which is very easy to use on the go), or in a gel format (which gives long lasting relief.). However, if the symptoms persist even after trying the above home remedies, make sure to consult a doctor.
Blog originally published on the Digitalist Magazine.