Can lack of sleep cause acidity?
Written By
Sep 04, 2020
2 min read
We all know that getting a good night's sleep can help our overall health and make us perform better in our day to day lives. Most people need approximately 8 hours of sleep. However, many a times, we function on much lesser sleep than the recommended eight hours.
Can acidity be one of the side effects of not getting proper sleep?
The answer is – yes.
Lack of sleep and sleeping less on a regular basis, can not only make you anxious, but can also increase your stress and acidity levels.
What happens to our bodies when we sleep less?
When you are perennially sleeping less and are tired and fatigued, the sphincter muscle that is located between the stomach and the oesophagus is not able to function the way it is meant to. In such a situation, the acid from your stomach can easily move upward into your oesophagus, which can cause the symptoms that you associate with acidity, such as a burning sensation in the chest or throat, nausea, vomiting, bitter taste in the mouth and so on.
Less sleep can also trigger your stomach to produce more acid than it normally would. This excess production of acid can irritate and damage the sphincter muscle and interfere with the way it functions. As a result, the acid from the stomach can reach the oesophagus, further increasing the symptoms of acidity.
What you can do about it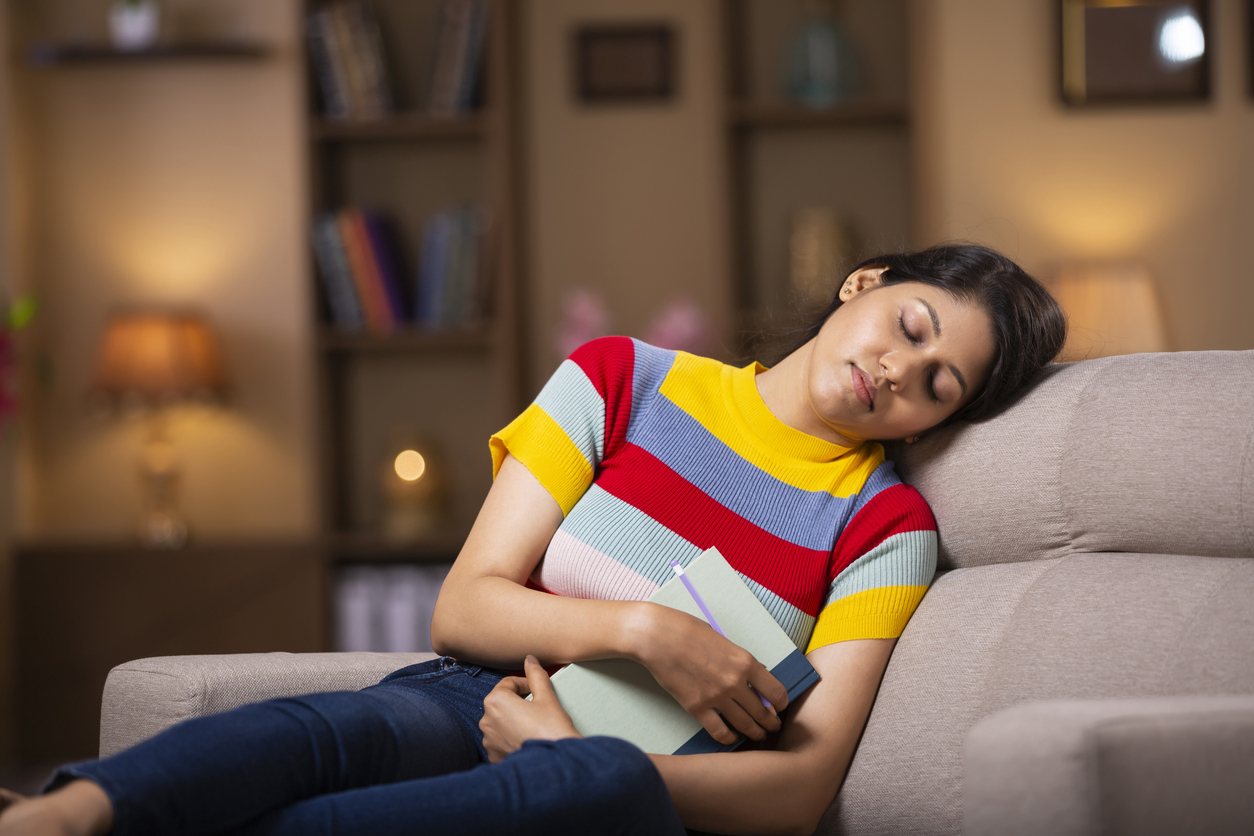 Avoid lying down immediately after eating
Stick to a sleep schedule. Go to bed and wake up at a regular time (even on weekends). If possible, try to sleep an hour earlier than usual, and adjust your dinner time, accordingly.
If you are unable to sleep immediately, try to lie down without any distractions. Don't lie awake in bed. If you are awake in bed for more than 20 minutes, get up and do a relaxing activity until you feel sleepy.
Relaxing techniques such as meditation, deep breathing or yoga, especially, before bedtime are known to be helpful.
Avoid having caffeine-based drinks and nicotine. It can take 8 hours for the effects of caffeine to wear off.
Avoid alcohol before bed. Alcohol keeps you in the lighter stages of sleep.
Avoid large meals and beverages late at night. This can cause reflux as well as cause you to awaken frequently to use the bathroom.
If you are on any medication, speak to your doctor and understand if they could be causing stress, anxiety or lack of sleep.
While it can take time to change your sleeping habits, it will have a positive impact on your health. If your sleep patterns do not improve, make sure to get your doctor's opinion on how best you can work on improving this.